Date: August 28, 2012 | Author: Willow Tree Farm | Leave a Comment
Category: Blogger Reviews, Chicken Pie, Chicken Salad, Uncategorized, Willow Tree
Willow Tree would like to thank the sister foodie team at Baking Me Hungry (http://bakingmehungry.com/2012/08/11/willow-tree-chicken-pot-pie/) for their review of our chicken salad and chicken pie: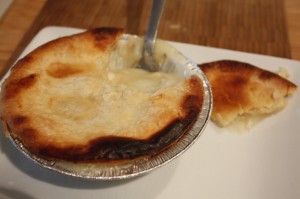 Willow Tree Farm really has the best chicken salad we have ever tasted. There are big chunks and smooth shreds of of chicken. There is a slight sweet from brown sugar. The Willow Tree chicken salad is so creamy and so good buttered hot dog rolls and a side of potato chips. We would get it at our deli section and then in the prepared containers.
We have made our own chicken pot pie (BMH's chicken pot pie), but prefer premade ones sometimes when we just do not have the time to make them from scratch.
We have tried most of of the pot pie products out at supermarkets including the Trader Joe's chicken pot pie, Swanson's microwaveable pot pie and many others including The Savory Plate. Often times the gravy is a bit salty, the crust super thin, the filling having only bits of chicken. So far our favorite has been The Savory Plate.  We have yet to try the Willow Tree Chicken and Turkey Pies and finally got the opportunity.
We purchased a single serve 8 ounce pie from our local 24 hour Shaws. Although there are several varieties including with vegetables and with bliss potatoes, our store only carries All Meat pies in the small and large sizes. The pies are available in  8 (single serve), 26 (serves 3), & 52 oz. sizes (serves 6), however our local Shaw's only carried the 8 and 52 ounce sizes.  Wish there was the medium sized one, which would be perfect and more flavors.
We preheated the oven to 400 degrees, glazed the top of the pie crust with a bit of milk (per the directions to make the crust even more golden) and waited the 40 minutes. The room permeated with a nice chicken pot pie smell. The large chunks  of all white breast meat chicken was substantial. We are used to little bits of brown meat and cubes from other brands, but this were large pieces of white breast meat.
The homestyle gravy itself was so cozy, but a little salty. We needed a glass of water after enjoying the pot pie.  The buttery crust top was by far the best crust and part of the pie.