Date: May 22, 2012 | Author: Willow Tree Farm | Leave a Comment
Category: Blogger Reviews, Chicken Pie, Uncategorized
We recently received a gracious review from Meghan at  http://traveleatlove.com/.  It's our pleasure to post her blog review below:
Anytime I go away for the weekend and get back late on Sunday, my week ends up being a little more hectic. Suddenly there's all of those weekend things that need to be done on top of long work days, and they just don't always get done.
I've been doing my best cooking up meals with the ingredients we had in the house, but nothing has been very exciting. I had cheese and crackers for lunch yesterday and counted pickles as a vegetable on Tuesday. Yeah, it's one of those weeks.
As a result, I was doubly, maybe triply delighted when I checked the mail on the way to my afternoon office and found a coupon for a free Willow Tree Poultry Farm chicken pie.
Willow Tree contacted me last week asking if I would be interested in trying a pie, and since I love chicken pot pie, I gladly accepted.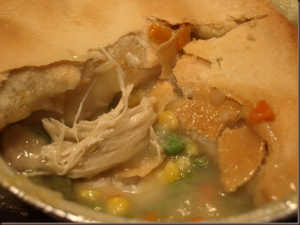 Willow Tree is based in Attleboro, MA and has been around for 60 years. Their products are prepared by hand, and as a local business, they are great in supporting the local community. It was fun to read up on the company's story.
I literally thought about the chicken pie all day long. I could not wait to run to Shaw's on my way home to pick one up and to have dinner made for us.
I popped the chicken pie in the oven and got back to work, eventually having to stop because the aromas of the baking crust and bubbling gravy were filling the house. We eagerly cut into the pie about 10 minutes before it was meant to be done, and it was piping hot.
Look at those chunks of chicken! They  and the veggies were integrated nicely throughout the pie and made it a filling, hearty meal. The gravy is homemade, and you can definitely taste the care and quality ingredients. It was rich and just salty enough, as gravy should be.
I was most looking forward to the crust, and it did not disappoint. Golden, flaky, and buttery, it made for the comfort food I was craving during the rainy, dreary weather.
My nana made an amazing chicken pot pie when I was younger, and there was definitely a resemblance. This is the stuff of childhood memories and modern day meals all at once.
With zero trans fats and lots of homemade flavor, Willow Tree's chicken pies are a great option for dinner on a busy weeknight. The 26 ounce pie said that it serves three, but we paired ours with a quick kale salad and got four servings out of the pie, enough for lunch the next day, which made me very happy.
Thank you to Willow Tree for sending me the coupon and allowing me to experience the chicken pie. I will definitely be trying the other varieties on busy work days to come.
Do you have any favorite convenience foods?