Date: June 12, 2012 | Author: Willow Tree Farm | Leave a Comment
Category: Chicken Pie, Chicken Salad, Recipes, Uncategorized, Willow Tree
What we can expect for spring weather in New England may leave us guessing but one thing is certain: it is the time of year when celebrations abound. We thought we'd take a few minutes to highlight how you can bring the convenience and good taste of Willow Tree to a variety of events that you may be hosting or attending over the next few months.
The All-purpose Brunch 
Hosting a weekend brunch, especially on a Sunday, can be a fantastic way to acknowledge a variety of occasions at this time of year. Brunch can apply to everything from birthdays and Father's Day, to baby or wedding showers, or just getting a group together for a nice meal before going off to enjoy an afternoon out. Brunch can also be a great pick-me-up before or after any fundraisers you may have scheduled, like walks or running events.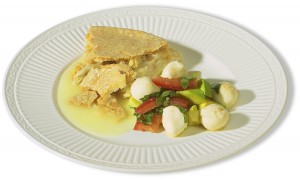 A great Willow Tree option for a brunch is not only the large, 52-oz size chicken pie, but the personal size as well.  The 8 oz. pie sizes are great one-person servings that take less time to cook and can easily be eaten off of the plate they come with. Willow Tree pies can be a great alternative to a quiche as they tend to be more hearty and unexpected. Don't forget to consider the different varieties including chicken with classic vegetable, chicken with red-bliss potato, or turkey pie. And they all go well with any kind of side dish or salad you can serve for an easy but incredibly delicious meal. Top it all off with iced-tea or lemonade and a small dessert, like cookies or cupcakes.  
The other great thing about having Willow Tree at a Sunday brunch is that you will have plenty of time to get ready (and rested) for it. If you don't want to take the time to heat up chicken pies, you can opt for either a pre-made party platter from our retail store, or you can make your own sandwich platter with Willow Tree chicken salad. 
Chicken Salad – Dress it Up or Down 
Willow Tree chicken salad is perhaps the most versatile of all Willow Tree products. Depending on the variety you serve and how you serve it, chicken salad can make the right impression at almost any type of occasion. Chicken salad can work well at a brunch or picnic as well as much more sophisticated events, like rehearsal dinners or even weddings. 
For a casual event, you could simply make chicken salad sandwiches on your favorite bread or rolls, or you could create wraps using our Buffalo or Cranberry Walnut chicken salads. These flavors also make great dips or appetizers on a cracker with garnish.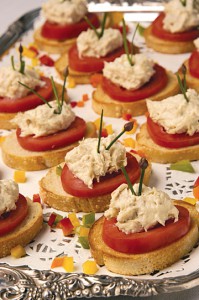 For something with greater presentation value, we have a couple of recipes that are sure to impress, including chicken salad on focaccia, Willow Tree Waldorf Salad, or the chicken salad "chickatini" in a martini glass. 
Just a reminder that if you are serving Willow Tree chicken salad at your next event, it should be kept at 32 to 40 degrees Fahrenheit until it's ready to be served. For more safe-handling tips, click here. 
A Parting Gift 
If you'd like to offer a nice surprise as a way to thank your guests, you can use Willow Tree products as a "parting gift". We have customers who have actually given away frozen pies as gifts. If your guests have access to our retail store, they may appreciate a Willow Tree Gift Card. 
However you choose to use Willow Tree at your next event, the easy preparation and great taste will make it a pleasure to serve. 
If you have any new ideas or recipes for how to serve Willow Tree, be sure to share them by leaving a comment here or on our facebook page.
Enjoy your celebrations!