Date: February 28, 2012 | Author: Willow Tree Farm | Leave a Comment
Category: Chicken Pie, Chicken Salad, Press Coverage, Uncategorized, Willow Tree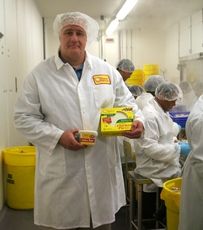 As seen in the New England Business Bulletin
By Pamela Berard
Bulletin correspondent
February 24, 2012
In a down economy, businesses need to identify cost-savings measures. But there's one thing Willow Tree Poultry Farm President Wally Cekala won't sacrifice: quality.
The Attleboro-based producer of chicken products — perhaps best-known for its deli chicken salad and chicken pot pies — has undergone some major changes in the past few years — including a facility upgrade, the creation of a management team, the addition of new products, a number of green initiatives, and recent expansion into new markets. But there's one thing that hasn't changed.
"I do believe that if you go back and try our chicken salad 20 years ago and tried it today side-by-side, you wouldn't notice a difference," Cekala said. "That's really been our goal. We don't ever want the quality of the product to feel less-than."
The family-owned business began as an egg and poultry farm in the late 1800s, and Cekala's father bought the farm in 1954 after working there. In the 1960s, the company stopped raising poultry and entered the end-processing side of the business, growing into a full-production and retail operation.
"We've had a lot of opportunities where we could have produced a cheaper product and gone for the quick dollar," Cekala said. "But my dad taught me well. (In a bad economy), you ride the wave. You have to take a little bit of a hit in sales. We didn't want to join the wave of less-expensive products. We just know the (down economic) cycle will end.
"We don't mind if (consumers) only buy half as much in a down economy," he said. "We won't put out anything that isn't quality."
Willow Tree workers still debone chicken by hand, because the company hasn't found another method that provides the same quality, and the company avoids preservatives. During a facility upgrade in 2010, the one mandate Cekala had was that "we make sure the chicken coming out of the cooker was as good or better" than before, he said.
The 2010 facility upgrade is allowing the company to expand its product line, and go into new markets.
Among changes — the company replaced 14 gas-fired kettle cookers with an inline cooker that cooks about 26,000 pounds of chicken per day. The inline cooker takes up less space and cooks chicken continuously through a conveyor system.
"We tried to streamline our production process, without changing the process," Cekala said, noting that the change was from what he called "old-world ways" to a more efficient process.
"The chicken still takes an hour to cook, but being an inline system, we can continually load the cooker and the other end is continually unloaded," he said.
The company has seen a 40 percent increase in production, Cekala said, but that success is not only attributed to the new cooker. "The cooker gave us the ability to build some efficiency in the system, but really, the changes we made were really top-to-bottom," he said.
Cekala said the company has maintained its employee base of about 100 through the economic downturn, but he put a new production team in place, adding several management positions. "It was pretty much a one-man show before 2010," Cekala said. "Rather than me trying to be everywhere — it was becoming an exercise in futility. It was hitting a point where I couldn't keep all the balls in the air."
So Cekala added several key positions, including an operations manager, regional sales manager, plant manager, and a logistics department. And two of Cekala's sons are involved in the business — Christopher Cekala is sales director, while Alex Cekala is controller.
Now that the company has expanded its production capacity, "it's just a matter of bringing in additional business," Cekala said, noting that sales are expanding further into New York, and into Pennsylvania.
"Our core market is still New England," Cekala said, noting that the company's increased production capacity is helping it solidify the outer fringes of the New England market.
Breaking into markets outside of New England can be difficult. "The challenge we always have is trying to get the consumer to try our product," Cekala said. "It's really tough in an area where your name isn't well-known."
Now that the company can produce more product, Cekala is trying to introduce "new" products, as well. During the holidays, the company offered turkey and chicken gravy, fresh to market, in pint containers, at major supermarkets in the area. Also, last summer the company introduced two new versions of its chicken pie — one with vegetables, and one with potatoes. And it is currently selling a line of chicken dips for crackers, chips, or to use as a spread. A buffalo chicken dip, and a chicken Caesar, dip are available, primarily in the Boston area right now. DeMoula's Market Basket also pretty much carries the full Willow Tree line, Cekala said. The new products should be cycling into stores throughout New England in the coming year.
"It's our hope that when the economy does turn that we'll be poised and ready with the new products," Cekala said.
Willow Tree products are available in most major supermarket chains in New England, New York and New Jersey, at smaller independent retailers and delis, as well as at the company's retail store in Attleboro.
The company has taken on a number of green initiatives, including donating its used cooking oil to a nonprofit that converts it into biofuel. "Our oil used to just go to waste, and now it gets sent to a company that produces a biodiesel type of product," he said.
The chicken skin goes to pig farms.
"We also went through great pains to change all of our lighting," he said. "We reduced energy consumption by about 20 percent, which is huge."
The company also moved to a single-stream recycling company, and heats the facility with secondary use of heat.
Willow Tree also supports dozens of local charities.
"The company has been a part of the community forever," Cekala said. "It's our home. We want to make sure future generations enjoy being here as much as we do."