Delicious Dishings Reviews Willow Tree Chicken Pie
Date: July 10, 2012 | Author: Willow Tree Farm | Leave a Comment
Category: Blogger Reviews, Chicken Pie, Uncategorized, Willow Tree
Megan, author of Delicious Dishings, was gracious enough to check out our retail store in Attleboro to pick up her pie! http://megan-deliciousdishings.blogspot.com/2012/07/willow-tree-chicken-pie.html. Her review is below:
Willow Tree recently sent me a coupon to try one of their chicken pies. After doing a little research, I learned that their retail store is just a couple towns away from us in Attleboro, Mass. So one afternoon, Jeff and I drove over to check it out and pick up the pie. The store carries the chicken pies as well as offers hot food items, cold cuts, and chicken salad. While it was nice to check out the retail store, it's not necessary to go there to get a Willow Tree Chicken Pie. They're sold in numerous grocery stores.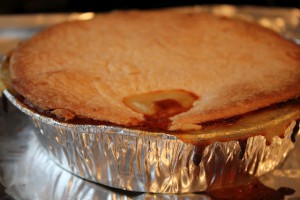 We deliberated over whether to get all white meat chicken, white meat chicken with vegetables, or white meat chicken with Red Bliss potatoes. Jeff wanted all chicken; I wanted vegetables. The pie with Red Bliss potatoes was the happy medium.
We got our pie home and tucked it in the freezer, where it waited until we had a lazy evening and decided to just pop it in the oven. The pies get baked from frozen but take a little longer than an hour, so they're good for a hands-off dinner, but they do require a little advance planning.
Once the crust was golden brown and the gravy started bubbling out of the pie, I knew it was ready.
I made some green beans to eat along with the pie and shared it with Jeff and his dad. We were all impressed with the hefty, moist chunks of white meat chicken and the flaky crust. The Red Bliss potatoes were soft and creamy. (I often worry about frozen potatoes having a weird consistency, but these were just right.) The gravy tying the whole pie together was well seasoned; we had the salt and pepper shakers out but didn't even need to use them. If you're looking for an easy meal option (and some tasty comfort food), this chicken pie is the way to go.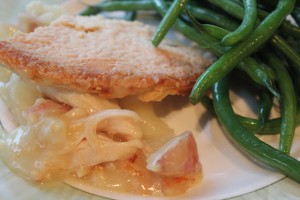 Add a comment