"Fun and Fearless in Beantown" Reviews Willow Tree Chicken Pie
Date: May 11, 2012 | Author: Willow Tree Farm | Leave a Comment
Category: Blogger Reviews, Chicken Pie, Uncategorized, Willow Tree
By Michelle from Fun and Fearless in Beantown: http://funandfearlessinbeantown.blogspot.com/2012_04_01_archive.html
I recently had the opportunity to try out Willow Tree Chicken Pie. Located in Attleboro, Massachusetts, Willow Tree Farm started out as a small poultry farm that soon became famous for their chicken pot pies. I've actually seen their frozen chicken pies in the grocery store before but have never given them a try. When the kind folks at Willow Tree sent me a coupon to try out one of their chicken pies, I was happy to give it a try after a long workday.
You can choose from a few different types of chicken pot pies – with no vegetables, with vegetables, and with potatoes. I opted for the chicken pot pie with vegetables. The chicken pies come frozen and require no thawing. You simply bake them in the oven at 400 degrees for an hour and fifteen minutes. Per the instructions, we brushed some milk onto the crust before baking to get that beautiful golden-brown crust.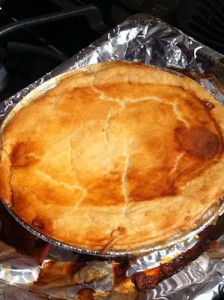 The chicken pot pie has huge chunks of white chicken meat and vegetables such as corn, peas, green beans and carrots. The gravy is thick and luscious but a tad salty. The crust is wonderfully flaky and has a wonderful buttery flavor.
know from my own experience that making chicken pot pie can take some time and effort. The Willow Tree chicken pie is a perfect substitute. After a long workday, I was happy to throw the pie in the oven while I did an evening workout. I couldn't tell that the pie had previously been frozen although if you know me, you know that I would never make anything too salty in my own kitchen.
Thanks to the folks at Willow Tree for providing me with a quick and easy weekday meal.
Full disclosure: The Willow Tree Chicken Pie was completely complimentary, but as always, my opinion is honest and completely my own.
Add a comment